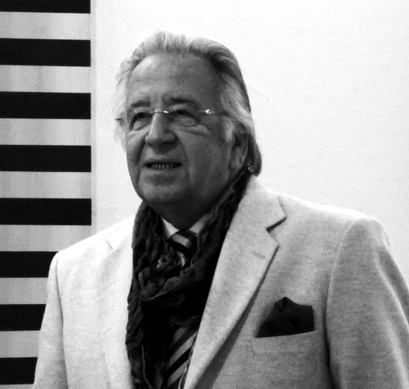 Cetin Erokay was born in İzmir, Turkey . He was graduated and made his masters degree at Izmir Ege University Economy and Commerce Faculty.
Prof. Dr.Murside İçmeli's and Mr. Mahmut Dinçer's drawing and painting lessons was the main reason he started loving art. He improved his artistic work and technique by the critics of his outstanding contemporary artist friends and in paralel with his own studies.. From 1970 to 2005, he lectured Public Relations and Advertisement classes in Ege Univercity Journalism an Public Relations Faculty.
Mr. Erokay took a key role in the establishment of SELCUK YASAR MUSEUM OF PAINTINGS –İzmir/Turkey.
One of Mr. Erokay's painting was used as a poster at the ''IV International Izmir Movie Festival'' in 1992.
In 1998 one of his graphic designs, became one of the finalists of the "International New York Festival" and his work was printed in the book entitled "The Worlds Best Works .
He has also held many solo exhibitions and participated in group exhibition. Çetin Erokay paintings have been exhibited at Viyana, Roma, Lile, Beijing, Newyork, Siauliu ,Tibilisi and Vila Viçosa -Portugal. His artworks took place in various repuable art collections in Turkey and abroad.
He is member of Euro Asian Worldwide organisation located at Viyana also he is the Chairperson of EAWW in Turkey. In year 2013 he was ınvıted to Kuwait as Turkish Guest of Honor for " Contemporary Art For Arabic Countries Confrrance" which held by Kuwait Art Associations. He was member of Jury staf of Anima Mundi Festivale in 2015 and he had exhibitions with other Jury members both in Lithuania and Georgia. In 2017 he become Honorary Member of IAF ANIMA MUNDI. In April 2018 he had a solo Show in Kaunas "The Shadows of Time.".
He continues his art endovour in his own atelier at İzmir-Turkey.
Selected exhibitions
1985 Izmir Museum of Painting and Sculpture Protection Association Group Exhibition
1985 Aegean Artists Group Exhibition, Ataturk Culture Center of Aegean University, Izmir.
1985 İzmir Chamber of Commerce 100th Anniversary Exhibition
1986 "The Birds Variations" Solo Exhibition, Fuzen Art Gallery
1987 "21th DYO Painting Competition" Painting Exhibition
1992 IV. Izmir International Film Festival's Poster
1993 "Formations" Solo Exhibition, ZANA Art Gallery, Izmir
1997 "Symphonic Fragmentations" Solo Exhibition, Temizocak Art Gallery
1997 "The Great Exhibition" İzmir Contemporary Culture and Art Activities Association, Group Exhibition, İzmir Museum of Painting and Sculpture
1998 Graphic Design Finalist of New York International Festival
1999 Solo Exhibition, Adnan Franko Art Gallery-Izmir
2001 Solo Exhibition, Art Shop Art Gallery-Izmir
2003 Turkish –Iranian -Azerbaijan Artists Group Exhibition, Kültürpark Papatya Antik Art Gallery-Izmir
2005 Painters of Izmir Book and Exhibition, Izmir Museum of Painting and Sculpture
*2008 Solo Exhibition, "Fragmentations" Atölye EN, Izmir
2008 Solo Exhibition "Good Morning Sun" Yaşar Education and Culture Foundation Altın Yunus Art Gallery – Çesme- Izmir
2009 Solo Exhibition "The Clouds and Wings" Bozcaada Art Gallery-Bozcaada – Çanakkale
2009 Group Exhibition, Catı Art Gallery. Alacati- Cesme-Izmir
2009 Group Exhibition, Atelye EN-Izmir
2010 Solo Exhibition, " Clauds and Wings" Bodrum Ayna Art Gallery-Kedi Cultur and Art Center- İzmir
2011 I. Izmir International Art Biennal
2011 Solo Exhibition " Luck Objects in Anatolian Civilizations" Wine&Art Gallery Cesme – Izmir.
2011 NIKA Modern Arts 78th Auction, Istanbul
2011 AEGEAN Universty 4th EGEART Iternational Art Days
2012 GALLERY M, Euro Asian Art Center 21th Century Art and Artists Exhibition/Vienna
2012 BEİJİNG ART FAİR, PARTICIPANT OF GALLERY M- Vienna booth.BEİJİNG- CHINA
2012 ROMA ART FAIR- ITALY
2013 SOLO EXHIBITION, " TUNE OF LINES" ATMOSPHER ART GALLERY. İZMİR
2013 II. İZMİR ART BIENNALE
2013 EAWW VIENNA INTERNATIONAL EXHIBITION.- AUSTRIA
2013 EAWW IZMIR INTERNATIONAL EXHIBITION-TURKEY
2013 CONNECTING ART GALLERY LONG ISLAND NEW YORK- USA
2013 EGE UNIVERSITY INTERNATIONAL ART DAYS ORGANİZATİON – "INVITED ARTIST"
2013 GUEST OF HONOR OF INTERNATIONAL CONFERENCE OF CONTEMPORARY ART- KUWAIT.
2014 SOLO EXHIBITION, PAINTING AND SCULPTUR MUSEUM OF İZMİR- "THE TUNE OF LINES"
2014 KUŞADASI TURKEY. HILTON HOTEL ART GALLERY. SOLO EXHIBITION.
2014 GROUP EXHIBITION ÇEŞME AYA HARALAMBOS ART CENTER
2014 GROUP EXHIBITION FOR 87.ANIVERCERY OF TURKISH REPUBLIC
2015 SOLO EXHIBITION, IŞ BANK, İŞSANAT ART GALLERY – İZMİR "THE TUNE OF LINES"
2015 15 APRIL 2015 GROUP SHOW, WORLD ART DAY EXHIBITION.