Leila Pourkhani
Iran, Tehran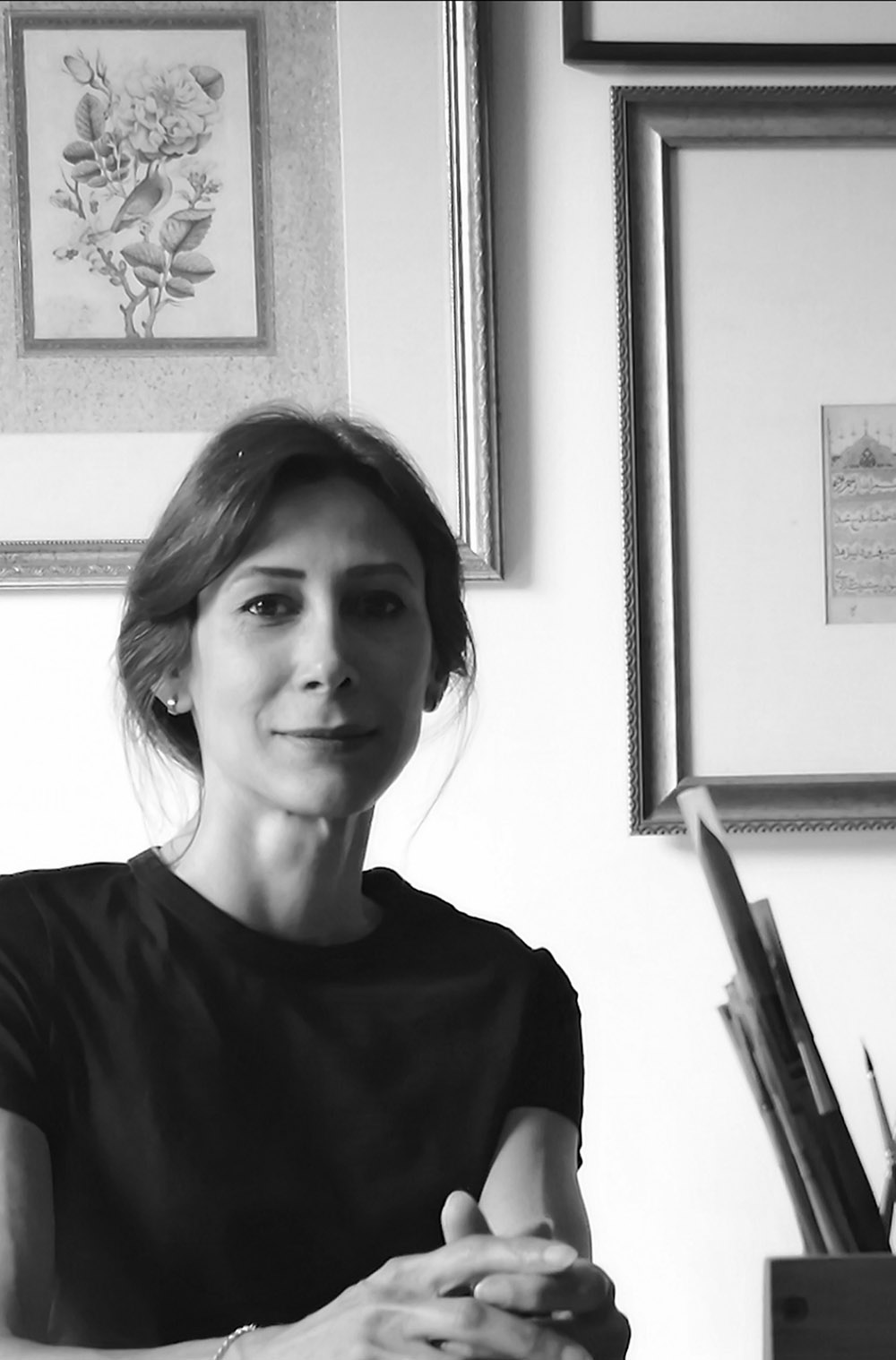 Having more and more information about the history of my nation also Knowing more about my background and being connected and commited to it has always been enjoyable for me and has paved the way for my improvement one way or another.
Generally speaking art in my land is so noble and introverted that getting to know its true nature is not easy.
It is so delicate and magnificent that does not fit easily in the mind of people in this fast paced life style. It needs long hours and even  days and lots of efforts to find And get to know the deep feelings of brush's dance of arabesque and ornaments.
At times we get lost in between all these varieties of art. And once we get lost in it the glitter and luctury of the modern world has no chance to catch our eyes.
I am so close and familiar with its nature and colours that I enter the world of those artists so effortlessly.
Today I know it so well that I can see it even with closed eyes.
I can paint it with my current feelings with all my heart pieces of this type of art  in large dimentions show so much  details that can not be ignorred and unseen.
These pieces show my feelings today and connects me to my roots and origins.
Education:
Tehran Graduate from Technical and Vocational School Learn Islamic Art (Miniature, Illumination, Restoration of Manuscripts) and with pride, dear Maestro Aydin Aghdashlou in Miniature and Illumination.
Honors and Awards:
Selective illumination of the Quranic Festival – Tehran 2013
Citations received the illumination of the Quranic Festival – Mashhad 2012
Get out in the third National Theater Visual Arts Imam Reza – Shiraz 2009
Selective illumination of the Quranic Festival – Mashhad 2008 Obtain third in the 16th International Quran – Tehran 2008
Graduation grade 1 Visual Arts Development Institute of Art – Tehran 2008
Citations received the first Art Exhibition of Youth Art – Tehran 1997
Exhibitions:
The 3 RD international contemporary art festival Bashkortartstan (Russia) 2020
Group Online Exibition -Exibition of Iranian Gilding (UNESCO) 2020
The solo exhibition paint-illumination (Atighi gallery – Tehran) 2015
Sharjah ramadan exhibition (Lure of the eye, Art bazzar) – Sharjah 2014
Iran art exhibition – KCCC exhibition space – Lithuania 2013
Festival of Quranic illumination – Tehran 2013
Festival of Quranic illumination – Astan Ghodse Razavi Mashhad 2012
Group Exhibition – VACI Exhibitions-Chautauqua – New York 2011
The 10 Exhibition Burda Award – Dubai 2011
The 6th National Theater Visual Arts Imam Reza – Shiraz 2009
Festival of Quranic illumination – Astan Ghodse Razavi Mashhad 2008
The 16th International Quran Exhibition (Mosala – Tehran) 2008
Painting Biennial (Museum of Conceptual Art – Tehran) 2008
Group Exhibition endless magnificent illumination (Seyhoun – Tehran) 2007
Painting Biennial (Museum of Conceptual Art – Tehran) 2006
Youth Art Exhibition (Tehran) 1997