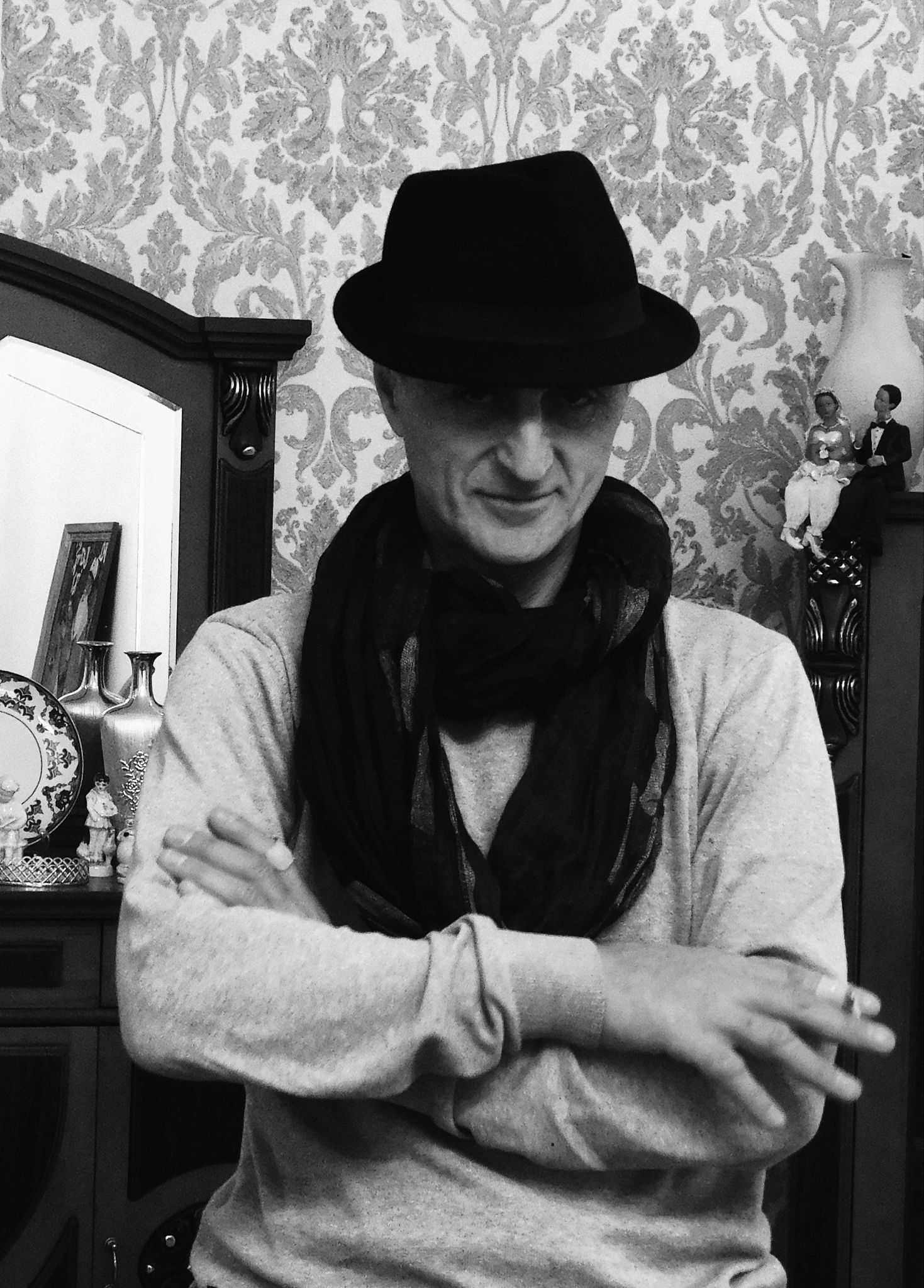 Aleko Lomadze – Georgian artist, Iconograph. His Icons are stored in different temples of Georgia- Tbilisi, Ozurgeti, Choxatauri, Xobi as well as in Vienna in the Holy Mother temple (Austria).
For nearly 15 years he works with draws milled stones as well as other mediums. Stones collected from all over Georgia, and assistance is provided with close friends. Also artist rugs marble, which has special radiance and it is used in some paintings. Drawing stones it is quite time-consuming process.
During this time he has participated in many exhibitions. Works are in private collections and public institutions in Georgia and abroad. He has the blessing of the Georgian Patriarchate and several works are kept in the Patriarchate.
Aleko Lomadze participates in different art projects, exhibitions, festivals, art seminars and workshops in Georgiia and other countries Lithuania, Latvia, Portugal, Malta etc.Picrutes are stored in D.Kipiani memorial Museum in Georgia, E. Takaiashvili memorial Museum, Central Library of Georgia.
Since 2015 he started work in ANIMA MUNDI project, also he is a memeber of this association as well as a Memeber of Georgian Artists Association.
Exhibitions:
Since 2003 started Iconography, got blessing from Georgian Patriarchat.
Icons are stored in different Temples of Georgia, Austria.
2005 Personal exhibition "God bless Georgia" ZugdidiEtno Museum Svanuri Koski Castle (Georgia);
2006 Personal exhibition in Tbilisi National Library "History of Georgia" (Georgia),
2007 Group exhibition Guria artists (Georgia);
2011 In Main Cathedral Sobor of Georgia Sameba opened room of Icons and historical paintings;
2013 International Art Festival ANIMA MUNDI (Lithuania) Pakruojis Manor;
2014 One Picture exhibition in E.Taqaiashvili (Ekvtime Takaishvili (also spelled Taqaishvili) (Georgian: ექვთიმე თაყაიშვილი) (January 3, 1863 – February 21, 1953) was a Georgian historian, archaeologist and public benefactor.) Memorial museum for Aniversary;
2014 International Art Festival ANIMA MUNDI (Lithuania) Vilnius Art Incubator and Art Gallery KALNAS;
2014 One Picture exhibition Portrait of Dimirti Kipiani (Prince Dimitri Kipiani (Georgian: დიმიტრი ყიფიანი alternatively spelled as Qipiani) (April 14, 1814 – October 24, 1887) was a Georgian statesman, publicist, writer and translator. A leader of Georgia's liberal nobility, he was known for his work in support of the Georgian culture and society, a cause that led to his 1886 exile and murder at the hands of Russian Imperial authorities. In 2007 he was canonized by the Georgian Orthodox Church as a saint.) aniversary in National Opera of Georgia;
2015 International Art Festival ANIMA MUNDI (Lithuania- Georgia) Siauliai Art Gallery and Georgian Museum of History;
2016 International Art Project ANIMA MUNDI "The DNA of European Art" History Museum AUSRA;
2016 Personal exhibition in Siauliai University " Wheel of destiny";
2017 MITHOGENIA Unipesoal. Lda- International Art Academy and International Association & Foundation ANIMA MUNDI, 1st International edition of Mithogenia Expo Fair In Vila Viçosa – Alentejo – PORTUGAL;
The APS Mdina Cathedral Contemporary Art Biennale (Malta) 2017-2018;
Art works are stored in Temples of Georgia and Austria, In Quishketi D.Kipiani Memorial Museum (Georgia), In E.Taqaiashvili memorial museum in Guria (Georgia), in private collections in Georgia, Lithuania, Ireland, USA, Turkey;
2018 Exhibitions in Georgian artists association gallery;
Exhibition in the Museum of Brothers Nobel of technology, COME AND SEE…. The opening was 08/10/2018. Exhibition opened Minister of Culture of Ajaria Mrs. Inga Shamilishvili ;
Exhibition in Kutaisi Opera House;
My personal exhibition ALPHABETH of ANCESTORS was organized and opened by Mejor of Kutaisi Mr. Giorgi Chigvaria at Opera House of Kutaisi;
OzurgeTis SuraTebis Galerea , 100 years Aniversary of Independent Georgia.
Exhibition of Guria' artists.26/05/18;
18/05/26 was the Aniversary of 100 years independent Georgia. There were held two my personal exhibitions in Qobuleti Museum and Art centre. More than 200pictures were presented in these exhibitions;
Lithuania, Kaunas, House of Nation,
The 100th anniversary of the restoration of the Republic of Lithuania,16/02/1918-2018;
2019 International exhibition in Budapest, gallery DUAL;
2019 Exhibition in Batumi museum together with Japanise artist Isao Tomoda;